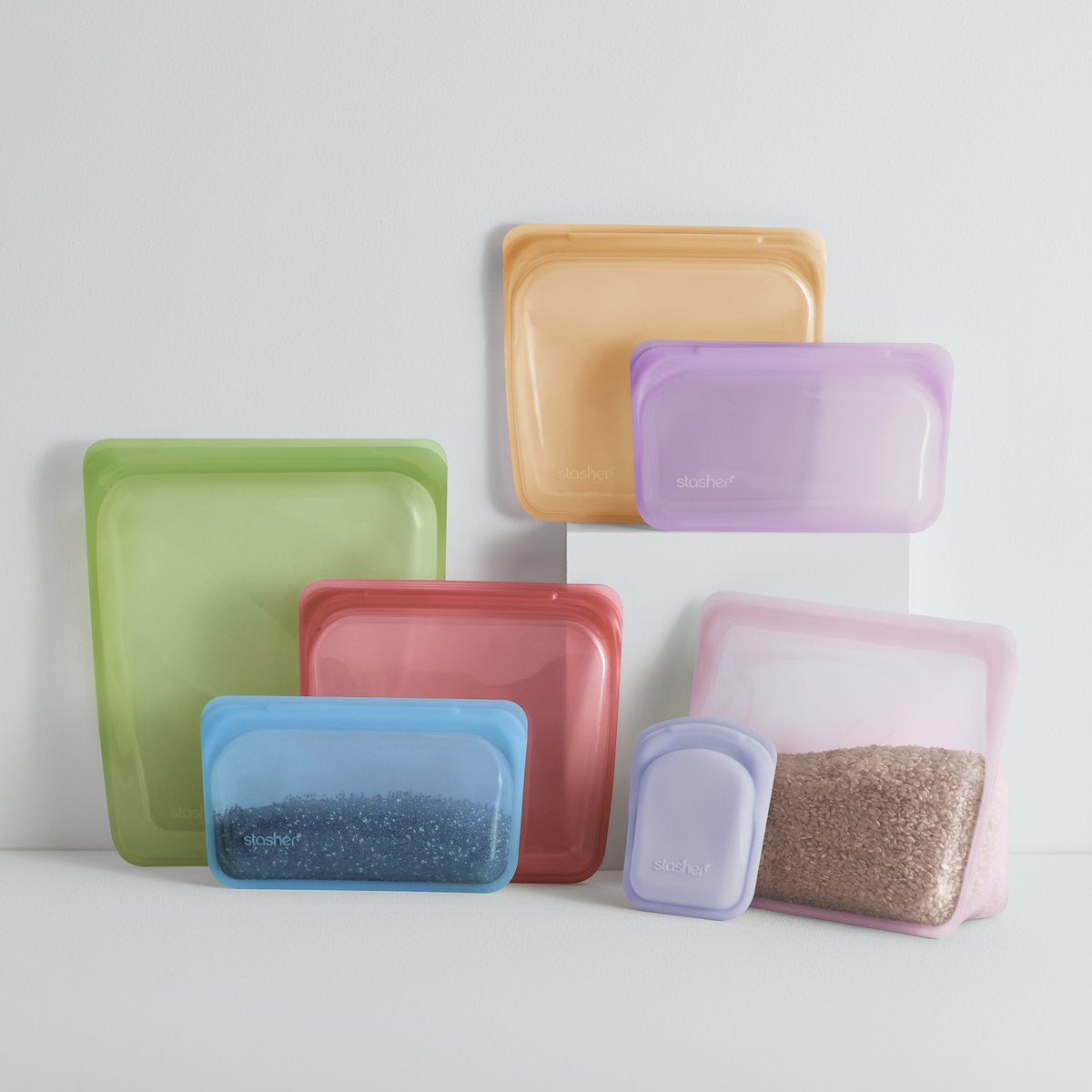 Staying Sustainable at Home
Spring has finally sprung! We wanted to talk to you about how we're cleaning out our old unsustainable habits and finding new alternatives that are fun, easy, and will make the planet much healthier/happier. We've put together a few low waste/sustainable ideas to help you begin or continue on your sustainable journey this Spring!
Ditch the single use Ziplocs and start using products you only have to buy once! Stasher Bags are endlessly reusable, safe for all types of food and washing, and are also very aesthetically pleasing. Send the platinum silicone bags in your family's lunches, use them for leftovers, or even for storing toiletries when traveling!
Bathrooms contain some of the most waste in a house with all different types of bottles and containers that end up getting thrown away. With shampoo and conditioner bars, you end up getting a more concentrated product than in huge bottles that use mostly water. They're also a great way to declutter your shower!
Love a good laundry pod? Dropps is a laundry brand that makes laundry pods and uses all cardboard packaging, so there's no plastic waste! (As you can tell, we avoid plastic wherever possible). You can get your laundry pods delivered right to your door. As for wool dryer balls, they'll absorb the moisture in your clothes quicker than dryer sheets and you can use them over and over again.
Shopping Sustainably with SOLS
Consciously shopping for clothes is just as important as shopping for the home. With all pairs of SOLS, you're choosing materials that are sustainably sourced and kind to the environment.
Our bestselling style Ana:
Natural rubber tapped from trees. This rubber is non-slip and will have the capability to biodegrade after being worn for years and years!
Premium leather. The Ana is a shoe that we know will get extra use as it's the ultimate everyday shoe. All leather is biodegradable, but we always sustainably source our leather to ensure an ethical shoe.

Recycled tire rubber.

The heel of the Ana is given an extra piece of rubber that's been recycled from old tires. This will make sure the part of the shoe that takes on the most wear will last you as long as the rest of the shoe.
xoxo,
Your SOLS Mates