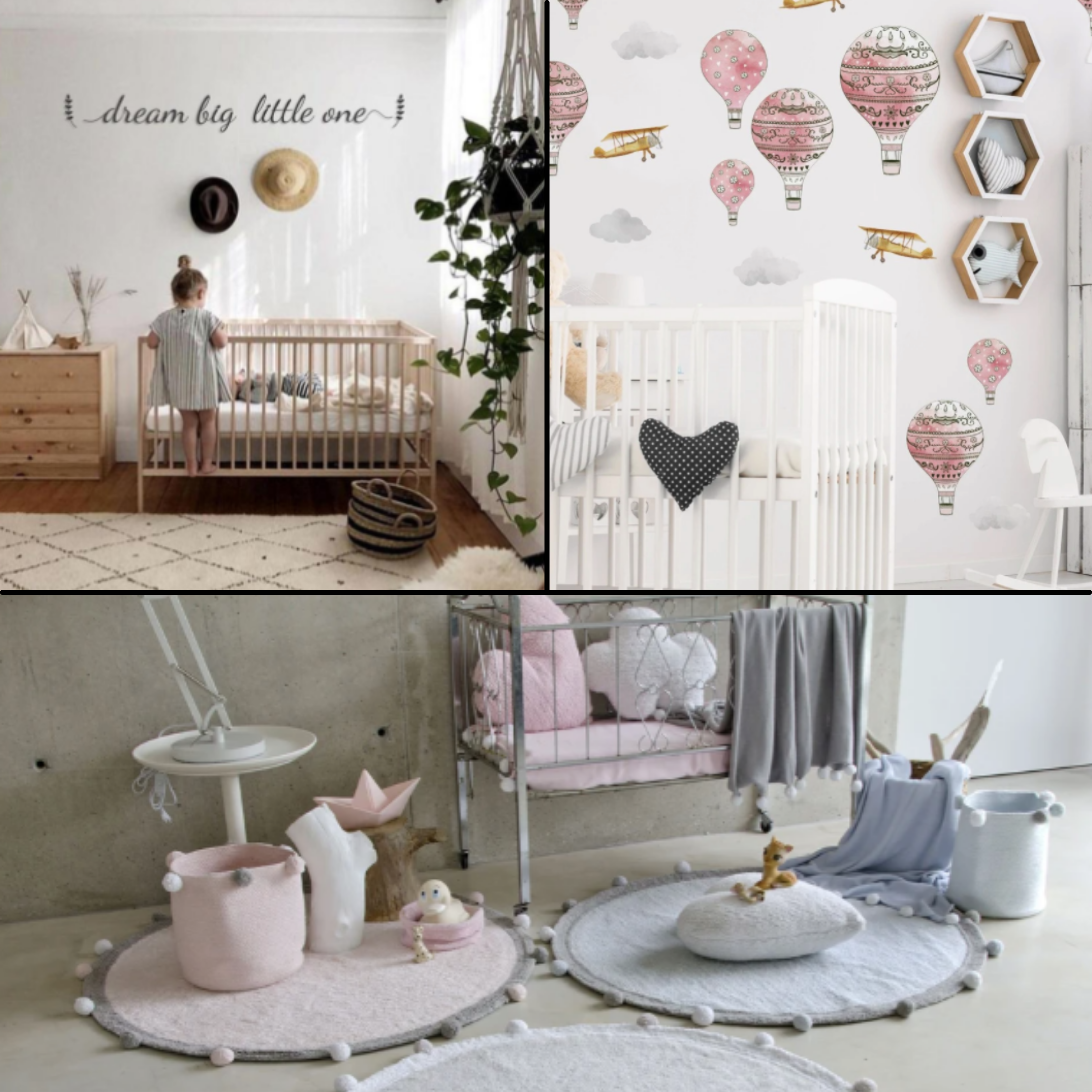 5 Dećor Ideas for Your Nursery
Being a new mom comes with a lot of new territory. One of those being creating a nursery that your child feels comfortable and peaceful in. To make this seemingly big task a little easier for you, we've put together some dećor items for you to gain inspiration from!
Here are 5 dećor ideas to use in your nursery, along with shoppable links:
Brighten Up the Space with Decals
Such an easy way to fill up blank wall space you don't know what to do with is to use wall decals. The options are seemingly endless for styles you can find to put up in a nursery, but we've picked out a couple we thought would give character to any child's room.
Rosy Pink Hot Air Balloons Wall Decals
Hand-painted, long-lasting, and purely sweet designs.
Function Becomes Décor
Putting away toys, books, burb rags, and all the other odd ends you're struggling to find places for can all fit into this basket. This Bubbly Basket is handmade by artisans and feature pom poms that add a little bit of texture to your space. You can also match these baskets to a rug with the same pom poms design!
We love these minimal, yet statement décor pieces, and what's even better is they're machine-washable! That's an important detail we know you'll always want to be looking out for.
Personalize for Your Little Ones
Designing nurseries is fun for parents because we're able to give a little bit of our personality to the person we love most. With that said, we want the nursery to be about the babe and have it reflect them!
A Birth Stat Print displays something that's purely them. And this timeless design will make it a precious keepsake as they get older!
Add Dimension
A plant hanger can give a space much needed greens and height. Placing plants indoors has a ton of benefits like purifying the air, boosting your mood, and a lot more that make house plants a must-have.
But, if you aren't into the idea of taking care of plants, there's still so much you can do with a plant hanger in your nursery:
-       Putting stuffed animals on display
-       Stringing lights up
-       Storing seasonal clothes that aren't used often
This particular plant hanger is also made by artisans!
Bring in Cozy Elements
At the end of the day, you'll want your nursery to be an ambient and cozy place you and your babes can relax in. Making sure you have enough of those cozy elements will make your nursery a safe haven for the kiddos.
A Fringe Quilt, like this one, will get softer the more you wash it which is exactly what we like to hear. You don't have to leave this in the nursery either. You can take this with you on stroller walks, picnics, and days at the beach!
Remember to have fun with your dećor! If you love it, then it's going to be just the thing the room needs.
xoxo,
Your SOLS Mates