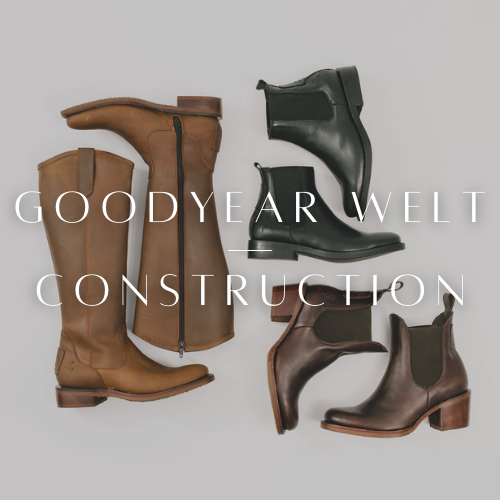 Goodyear Welt Construction
Our Tierra collection includes are first ever boot, so we wanted to share how we thoughtfully designed and created them. It was important we used the best method possible so our boots could become your "forever boots".
What is Welt Construction?
This technique was created in the 1860's when Charles Goodyear invented a machine to attach a welt, a long strip of leather, to the upper and outer soles. This process not only makes the shoes waterproof but also re-soleable. This takes away glue completely and only uses stitching for construction.
Why use this technique?
Having a boot that is resoleable means you can wear them for years and years. The waterproofed boot will keep your feet nice and dry so you can choose to use these shoes in harsher conditions.
One of our favorite reason for this construction method is the comfortability the shoe allows for your soles. We're able to use memory foam soles where your foot creates its own custom-like footbed! Every time you're stepping into a mold that suits your own feet and what's better than that?
Continuing to support artisans
This technique is not only incredibly helpful and magical, but it also allows us to continue supporting Mexican artisans. Our artisans have been perfecting this method for generations and getting to share it with the world is perhaps the actual best part about our new boots. Thank you for supporting us while we support the artisans back home in Mexico.
xoxo,
Your SOLSMates